In which Industries are BPoC Founders Represented in the D-A-CH Region?
Current Startup Landscape in the D-A-CH Region
In today's blog article, we will take a closer look at the industries in which BPoC (Black and People of Color) founders are active in the D-A-CH region.
According to the German Startup Monitor, three key characteristics are used to define startups in Austria and Germany.
Startups
are younger than ten years old
have sales growth and employee expansion
and/or are (highly) innovative in their products, services, business models and/or technologies.
Even though Switzerland does not provide a universally applicable startup definition, it can be assumed that there is a similarity to the definitions of the other two countries.
Current statistics on company formations and startups show that in Germany approximately 1,033 startup formations were registered (corresponds to approximately 1.6 % of all company formations). In the other two countries, the percentage of startups is lower than in the Federal Republic of Germany, both for Switzerland (approx. 300 startups, corresponding to approx. 0.7 %) and Austria (approx. 364 startups, corresponding to
approx. 0.9 %).
In terms of industry distribution, most startups in all countries operate in the software industry (IT and communications). The growth of this industry is predominantly driven by trends such as IoT, artificial intelligence or data thinking/ analytics.
Below, we highlight the survey results from our survey launched in June and compare them to the latest startup statistics.
Industry Focus: BPoC Founders in the D-A-CH Region
Our survey results show that BPoC founders are active in a wide range of industries. For aspiring founders, the focus is particularly on services, retail/e-commerce, beauty, marketing/digital marketing, IT and communications, food & beverage and creative industries. These are also the industries in which the aspiring founders see their future plans. Most of the aspiring founders considered launching their startup in the following industries:
beauty, creative industries, retail/e-commerce, IT and communications, and fashion.
BPoC founders who have already founded a company did so primarily in the following industries: Retail/
E-Commerce, Services, IT and Communications, and Creative Industries.
Contrary to what the survey results might suggest at first glance, they must be viewed in a differentiated manner. Most startup projects involve a technological component, such as building an app. It is evident that even if some founders did not explicitly assign their startup projects to the IT and communications industry, they do show interfaces to precisely that industry. Based on these findings, it can be assumed that the IT trend will also influence further BPoC projects in the future. Particularly noteworthy is the realization that many projects are designed by the community and for the community.
We look forward to the positive impact BPoC founders will have in the D-A-CH region and the contribution they will make to a more diverse future with solutions from our community for our community.
ADAN Elevate Project Team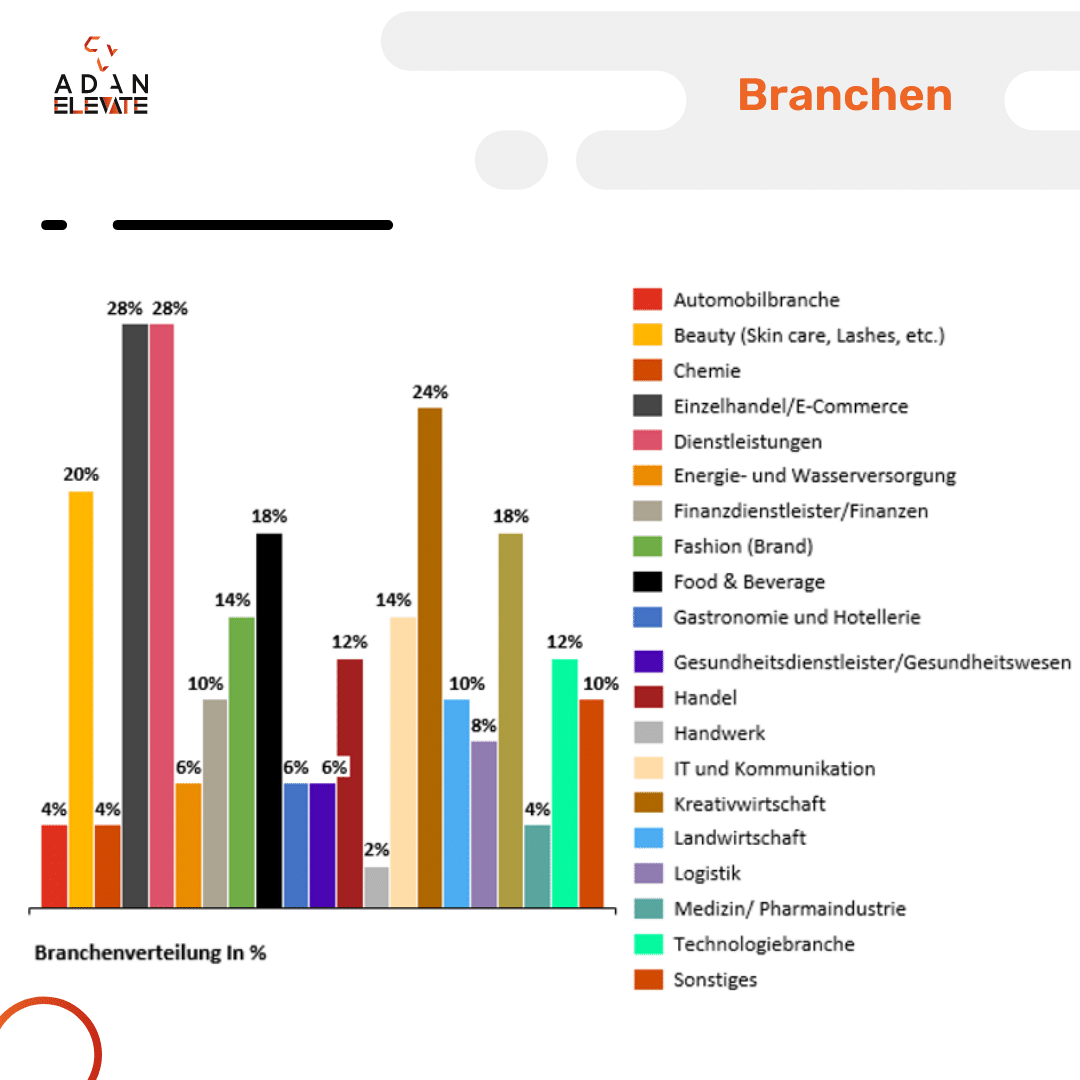 Related posts