ADAN Frankfurt x ISD – Community Space Event
March 25 @ 15:00 - 19:00 CET
Wolltest du schon immer mal wissen, was es braucht um Lehrer*in, Ärzt*in oder Architekt*in zu werden?
Wie kann ich auf Social Media Themen besprechen, die mir wichtig sind, und gleichzeitig Geld damit verdienen? Was ist wichtig, um erfolgreich ein eigenes Business zu leiten? Welche Möglichkeiten aber auch Hürden gibt es in diesen, aber auch weiteren Berufen, insbesondere für Schwarze Menschen?
Komm zum Community Space im Café KoZ, eine gemeinsame Veranstaltung von ADAN und ISD Bund.
HIER kannst du dich anmelden.
Sprich mit Menschen, die in den Bereichen Medien, Gastronomie, Gesundheit, Architektur, Gebäude- und Energieberatung und Lehramt arbeiten. Stell all deine Fragen und tausch dich mit anderen Interessierten aus.
Wann? Am 25.03. von 15:00-19:00 Uhr
Wo? Im Café KoZ, Mertonstraße 26-28, 60325 Frankfurt (Campus Bockenheim)
Was? Thementische und Austausch mit Musik und Auflegerei (DJ Meron).
Für Wen? Die Veranstaltung richtet sich an Schwarze, afrikanische und afrodiasporische Jugendliche/junge Erwachsene, die sich über Berufe nach Ende ihres Schulabschlusses infomieren möchten.
Wir freuen uns auf Dich!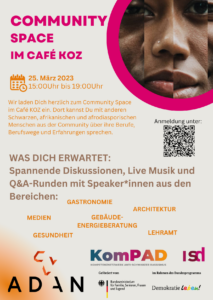 ---
Have you ever wanted to know what it takes to become a teacher, doctor or architect?
How can I discuss topics that are important to me on social media and earn money at the same time? What is important to successfully run my own business? What are the opportunities and hurdles in these and other professions, especially for Black people?
Come to the Community Space at Café KoZ, a joint event of ADAN and ISD Bund.
HERE you can sign up for the event.
Talk to people who work in the fields of media, gastronomy, health, architecture, building and energy consultancy and teaching. Ask all your questions and exchange ideas with other interested people.
When? On 25.03 from 15:00-19:00
Where? At Café KoZ, Mertonstraße 26-28, 60325 Frankfurt (Bockenheim Campus)
What? Thematic tables and exchange with music and DJ Meron.
For whom? The event is for Black, African and Afro-diasporic youths/young adults who want to find out about careers after finishing school.
We are looking forward to see you!