BPoC Business Owners and Entrepreneurs are Important for Social Mobility
Here's Why and How ADAN Elevate Can Contribute to This
ADAN's Goal is to Contribute to the Social Mobility of the BPoC Community
ADAN e.V. is a non-profit organization that aims to inspire and empower its community to overcome hurdles they face throughout their professional career. We achieve this by providing a support system that gives access, knowledge, and a community of like-minded people to propel individuals' professional and personal development. With regard to this, we see Social Mobility as key to breaking down barriers, reducing discrimination, and increasing racial equity for the BPoC Community. Social Mobility is directly connected to Economic Mobility, which is an area that is often overlooked when discussing racial equity. As data shows, wealth is distributed unequally among BPoC and other ethnicities, which also fuels social injustice. Data drawn from the McKinsey Institute for Black Economic Mobility shows that in 2016 the median net worth of Black families was one-tenth that of white families. As the US is the only nation with such data on Black people, I used this as a reference. Nevertheless, there is a high probability that these findings align with the situation of BPoC globally.
Business Ownership and Entrepreneurship are Critical for Wealth Creation
Business Ownership and Entrepreneurship are critical wealth drivers. Therefore, based on the aforementioned challenges, we believe that supporting and nurturing more BPoC to become entrepreneurs and business owners is mandatory. To understand the existing challenges, we surveyed 70 aspiring and existing BPoC founders. Our rather small sample size results from the amount of BPoC active in Entrepreneurship in the D-A-CH region and survey participants we could reach through our traditional channels. We wanted to understand the challenges BPoC entrepreneurs face in their quest to become founders. The results proved that the topic has to be addressed from a holistic point of view, as there is not one aspect but rather several challenges, starting with an understanding of how to begin the entrepreneurial journey to accessing capital, and finally establishing the relevant networks.
BPoC Often Fail at the Stage of Bootstrapping Their Business Idea
A concrete example is, for instance, the start of the founder's journey when it comes to bootstrapping. Data shows that nearly 90 % of founders use their financial resources and tap into a pool of capital provided by the famous 3 F's- Family, Friends & Fools. Coming from an underrepresented community that is generally financially less stable than the median, the pools of capital, especially from the 3 F's, are limited or non-existent. Looking at the entrepreneurial journey, the first seed funding to test and validate an idea is critical to discovering product-market fit. If this test cannot be conducted, the likelihood to continue the journey is very limited. This precise description is essential to contextualize the challenges we are addressing. Regardless of these challenges, there is still hope and the opportunity to change this.
How ADAN Elevate Will Contribute to Business Ownership and Entrepreneurship for BPoC in the D-A-CH region
For this purpose, with our program ADAN Elevate, we want to focus on providing tailor-made support for BPoC who want to become founders or are already entrepreneurs. One entry-point is our Blog, which intends to be an inspirational journal that discusses relevant topics, provides active resources and guidance in the entrepreneurial journey. With our hybrid event format Meet the Founders, we focus on spotlighting BPoC founders to provide a source of inspiration. After providing resources and inspiration, our Accelerator Program is there to provide concrete resources, especially to people who want to become founders. Our 6-week Program will offer the opportunity to do a deep dive through the founder's journey from ideating an idea, to discussing legal topics or financing opportunities. The workshops will be held virtually twice a week starting in February 2022. Applications are open until the 31st of December.  All workshops will be conducted by carefully curated experts with a deep understanding of the respective topic, hence we are happy to receive workshops from the internationally renowned law firm Mayer Brown. The final event, in April 2022, will see us create the biggest start-up event (Investor Day) for BPoC in the D-A-CH region, in which we plan to bring the most prominent VCs as well as Business Angels together with the most promising BPoC owned star-tups. The event will offer the opportunity to 10 start-ups to pitch their business ideas in front of a jury to receive financing. Furthermore, we will provide a wide range of networking opportunities with various stakeholders.
We strongly believe in the impact of supporting underrepresented people and are very happy to have strong partners like Goldman Sachs empowering us to provide resources to address this topic! We look forward to laying the foundation for a well developing entrepreneurial ecosystem in which we can see more BPoC lead start-ups to build successful companies regardless of the hurdles they face.
If you are reading this and are interested in contributing to our program, feel free to get in touch vie e-mail: elevate@ada-netzwerk.com!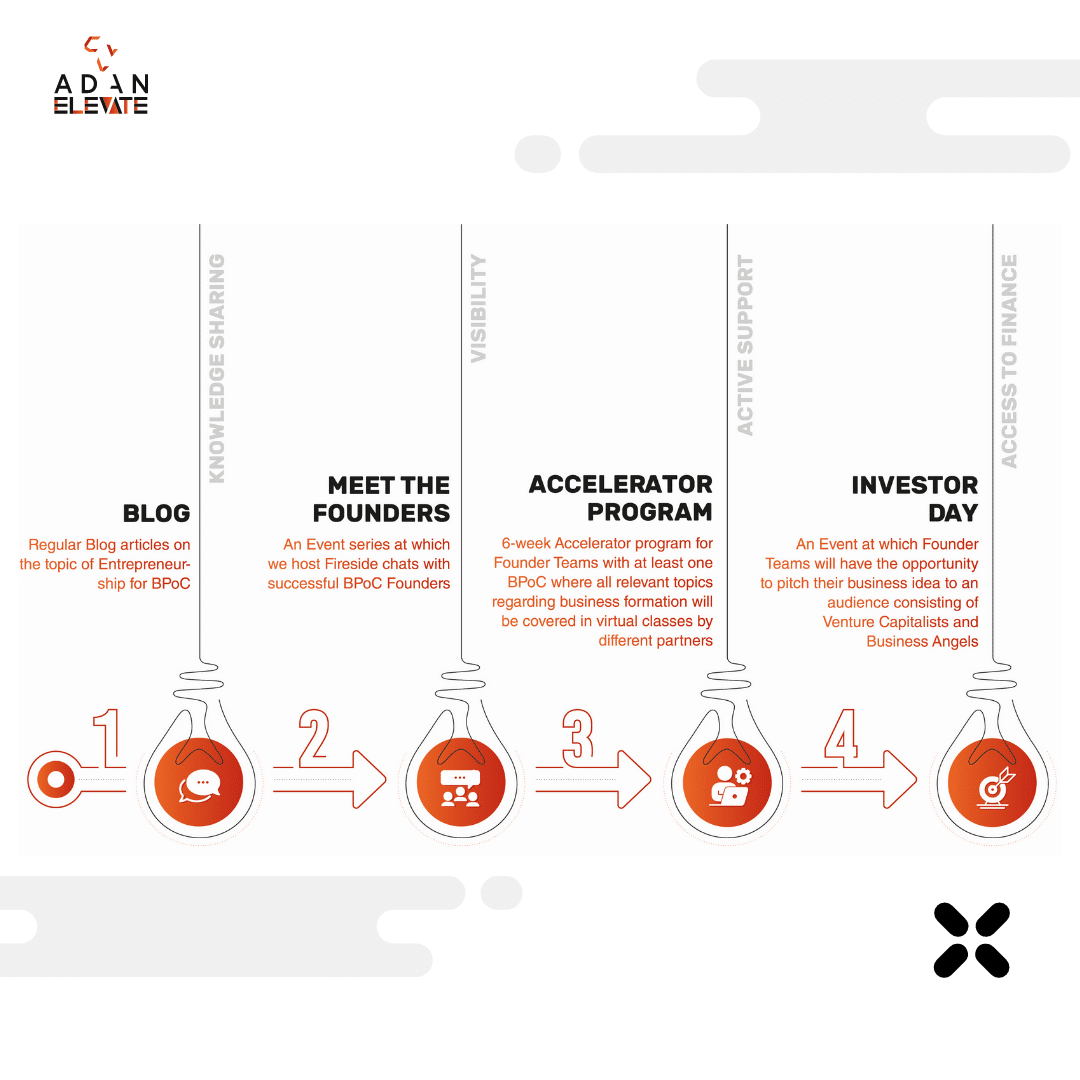 Related posts